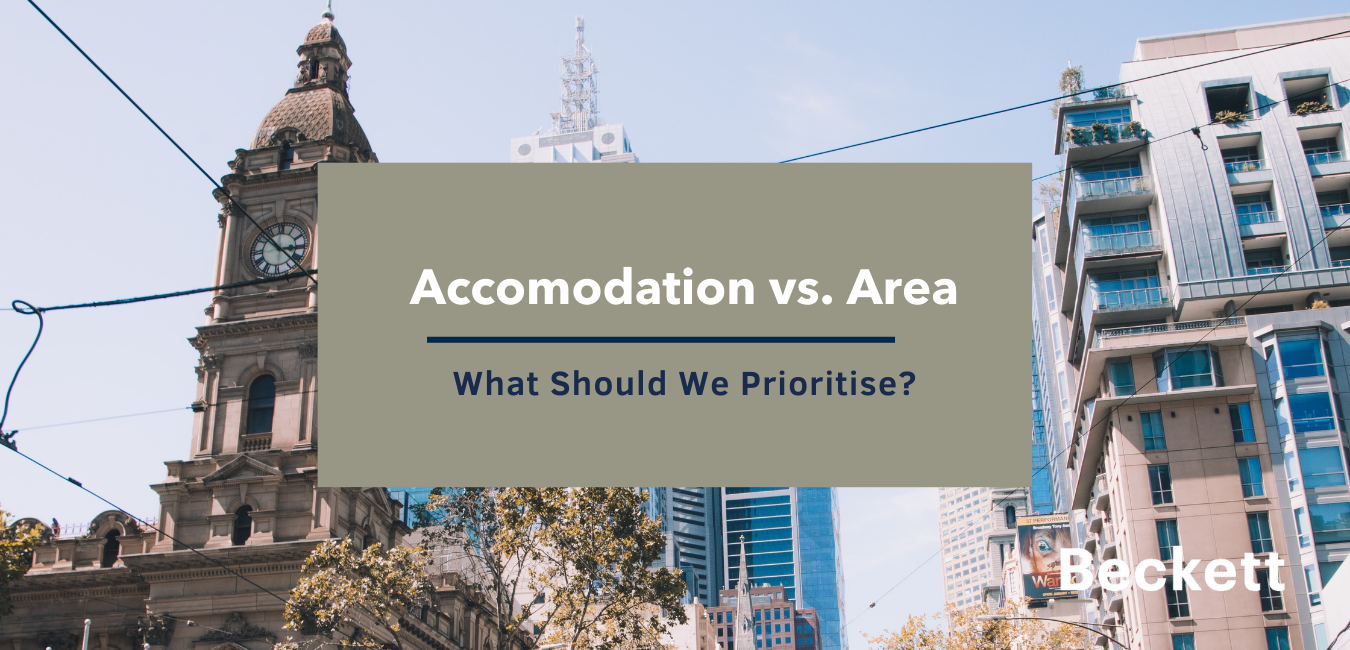 March 1, 2022 |
Accommodation vs. Area
Accommodation vs. Area – what does it mean? We have all heard the phrase 'location, location, location' but is this statement the be all and end all? Melbourne has hundreds of different suburbs to choose from and on top of that, there is a diverse range of property types to choose from; apartments, villa units, townhouses, terraces and free-standing homes for example.
With so many options, it can be hard to figure out exactly what to prioritise. Should you focus on a dwelling type and then research the best suburb that suits you? Or do you research the best location first and then decide on the best property type?
Location is often seen as the most important factor to consider when buying a new home. It's easy to be fixated on finding the "perfect place" when buying a property. Location generally trumps the dwelling in the initial decision-making process. The location of your home is where you will start your next chapter and facilitate your new lifestyle. You will make friends with your new neighbours, get involved in local community events and source your favourite barista for your daily coffee hit.
Choosing a sought-after location includes suburbs and houses that are within close proximity to amenities, public transport, schools, hospitals, freeway access and open spaces. Easy access to family, friends, child care and work place are also items that are very high on the agenda.
Selecting your ideal location will then heavily influence the size or style of dwelling you finally purchase. In Melbourne, suburb prices generally increase the closer you are situated to the CBD and the beach. Superior pockets and streetscapes will also demand higher price points. Being situated closer to these major attractions usually means you will have to compromise on your accommodation. This could result in having a renovated property as opposed to un-renovated, one less bedroom, off-street parking or a townhouse instead of a free-standing house.
Choosing the right home needs to be the perfect blend of both area and accommodation. Both aspects require serious planning as it is an extremely expensive procedure for you to get wrong. You need to ask yourself whether the suburb you choose will facilitate your lifestyle goals without paying a heavy social tax. The dwelling you choose will also need to accommodate the requirements of a growing or shrinking family over the short, medium and long term.
Although buying a home is predominantly a lifestyle choice, wealth creation should also be high on your priority list. 54% of Australians wealth is invested in their principle place of residence therefore choosing a quality property with strong capital growth is of paramount importance.
People fall in love with the notion of a 'dream house' but there still needs to be a commercial element involved to safeguard your future wealth creation. Capital growth provides equity and equity equals opportunity.
At Beckett Property, we embrace the changes to our city and the varying market conditions. We constantly strive to source new opportunities for our clients which unlocks the potential of each property and creates remarkable lifestyles within the Melbourne community.
Our commitment and dedication to our clients has firmly established our position as one of Melbourne's most successful, consistent and creative Property Advisories. Our company is built on the foundation of experience, current industry and economic knowledge, ethical advice, networks, relationships, world-class customer service and optimum results.
If you are thinking about getting into the market to buy a Melbourne property in 2022, please feel free to contact us at [email protected]
---