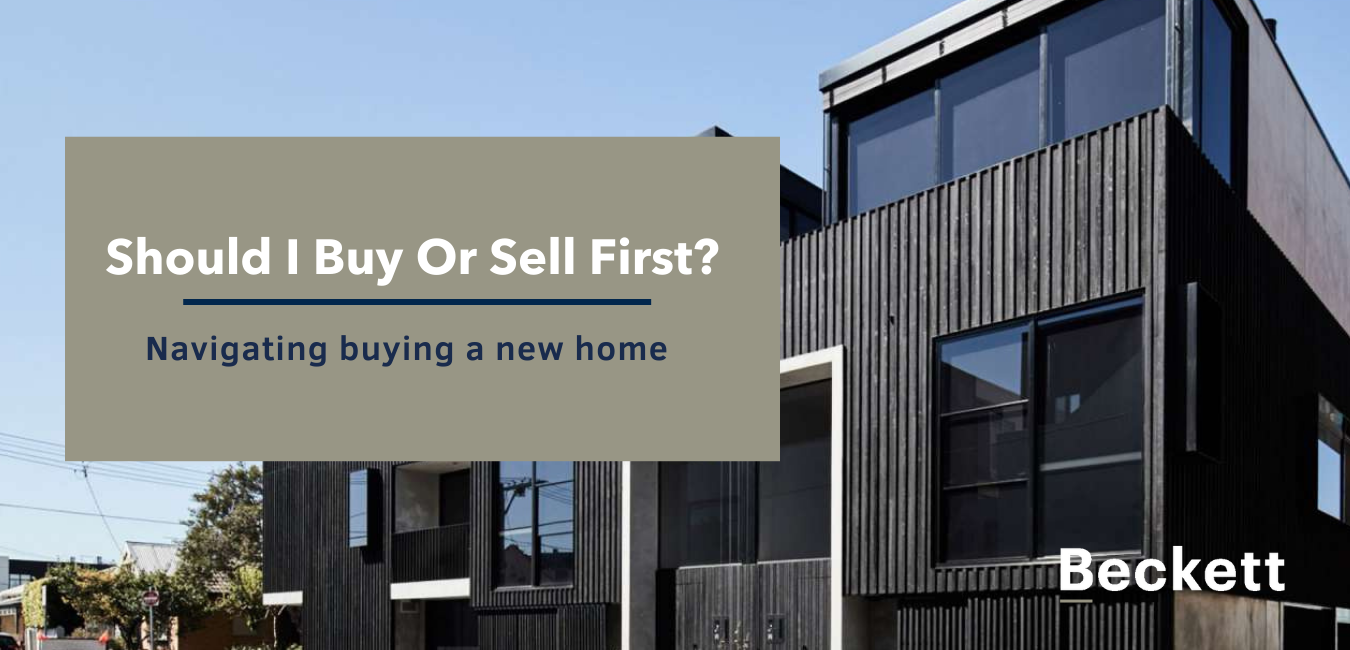 December 1, 2021 |
Should I sell or buy my home first?
Buying and selling your home is a very emotional process and can have an enormous impact on your finances too, especially when you are conducting both transactions at the same time. The big question that a lot of home owners and vendors face is whether to buy before they sell, or sell before they buy.
Both options have their advantages and disadvantages associated and it is imperative that you consider all options before you walk the line.
Buying before selling
Positives:
Firstly, you have the benefit and comfort of time without any sales or settlement deadlines looming in the background. This luxury will enable you to make the right choice and not a rushed decision.
There is the stability of securing the home you really want and budgeting easier by knowing the exact price you paid for it.
If the market is stable or rising, you could benefit financially by purchasing at today's lower price and then letting the value of your current home appreciate further before you sell it.
You reduce the risk of being forced into costly interim accommodation or storage because you haven't found the right property.
It is easier to negotiate your preferred settlement terms as a buyer rather than a seller.
Negatives:
You will have to estimate the sale price of your current home and hope that this price is achieved.
You could be at risk of financial hardship if your home sells for less than expected or is taking a long time to sell.
You could feel pressured to accept a sale price far below your expectations as you are financially obligated to complete your purchase transaction.
If the sale of your current home is far greater than you originally estimated, you could have had a higher budget for your next home.
You might not have the capital for the required deposit of your next purchase.
You could be required to manage two mortgages for an unknown period of time, or you might need to take out bridging finance on the new property while paying off your current loan.
If property prices fall, you could be selling your current home for far less than anticipated which could cause financial hardship.
Selling before buying
Positives:
You have the benefit and comfort of time without any purchase or settlement deadlines on the horizon.
You can hold out for the sale price you really want which can set you up for a better purchase budget and option.
It is far easier to budget as you already know your exact sale price.
If the market is stable or falling, you could benefit financially by selling at today's higher price and then buying at tomorrow's lower price.
You will have the deposit available for your next purchase.
You will know the exact date required to marry up both your settlement dates.
If you're looking at moving to another area, there is always the option of renting first to test it out. This gives you the chance to "try before you buy" while searching for your dream home.
Negatives:
Finding the right home can take longer than you expected, and you could feel pressured into purchasing a home that doesn't tick all of the boxes because of time constraints.
You will be required to source temporary accommodation if you can't coordinate the same settlement dates.
It is harder to negotiate your preferred settlement terms as you want to engage as many potential buyers as possible to achieve the highest price for your current home.
If property prices rise, you could end up paying a lot more than you originally projected to secure the home you really want.
What we have learned over the years is that there is no wrong or right method – you need to choose whichever process you feel most comfortable with or matches your circumstances.
Whatever you do, you must first engage an A-Team of professionals to assist with every component of your planning;
Financier: to understand your mortgage serviceability and discuss the possibility of bridging finance.
Buyers Advocate: to guide you through your best options of your next home purchase.
Selling Agent: to provide an accurate appraisal / estimate of your existing home.
Beckett Property are fully licensed Buyer Advocates and highly acclaimed Property Advisors who specialise in property acquisition services across Melbourne. We encompass over 40 years combined industry experience in acquiring real estate and truly understand every aspect involved in the complete property purchase process.
If you are looking for assistance to source and acquire your next home, please contact one of our experts today for a free consultation.
WANT ASSISTANCE BUYING YOUR PROPERTY PORTFOLIO? 
If you are building a property portfolio and would like a free consultation to make sure you have the best advice, please provide details below and one of our advisors will be in touch.
---